An overview of the original TV series
and
COMPLETE EPISODE GUIDE WITH CRITICAL COMMENTARY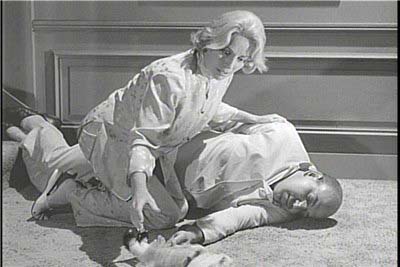 … and in typical Twilight Zone fashion, the villain gets exactly what he deserves.
"My name is Talky Tina!! And you'd better be NICE to me!"
SEARCH THIS GUIDE BY SEASON: Season 1 (1959-1960) ; Season 2 (1960-1961) ; Season 3 (1961-1962) ; Season 4 (Spring 1963) ; Season 5 (1963-1964)

The Twilight Zone Episode Guide
Author Comment: What is The Twilight Zone? It's a great TV series.
Herein you will find critical commentary on and summaries of each episode of the original Twilight Zone series that aired from 1959 to 1964 on CBS TV Network. I started on it in January 2000 and there was a combined three-year period wherein it was not worked on at all - and then I discarded what I'd started originally. Actually, the very first version of this guide was written from mid-1996 to late 1998 but it was discarded too. In 2002-2003, I wrote what appears below, which stems from the seeds planted in 1996.
The guide was inspired by a few things...first, Marc Zicree's "The Twilight Zone Companion," which is a good book but largely incomplete and shy on many important details of many good episodes and episodes deserving of more commentary; secondly - by the *rotten* guide written in the late 1970s and early 80s that was on the Scifi.com (The SciFi Channel) website for years, written by some faculty from the computer science department at Rutgers University; and thirdly, by my inexplicable penchant for reviewing things and writing the reviews up as if they were going to be part of a book.
Each represents an honest, objective assessment of each episode...some commentaries are briefer than others. Sometimes you fee like a nut, sometimes not. Sometimes a great deal of juice can be squeezed out of a fish, sometimes not. For some of the highly-popular episodes that have been discussed at length many times elsewhere, you will note that I have intentionally not made much commentary.
If you are wishing to find info on a particular episode, click 'EDIT' on your browser's upper toolbar and 'Find on this page', and then type in the info you're looking for, such as "Claude Akins", "Robert Redford", "kanamits", etc.
Some direct quotations from the scripts are included here, but I recommend you read the scripts themselves. About 90% of them are in print now, most with extensive commentary included. Check out the BOOKS page for more details.
So now this episode guide has made its permanent home online, as the third edition of what was started so many years ago. Enjoy it.
Special Thanks
To Bill DeVoe and Chris Conlon for kind, supportive remarks after I finished this
To Eric Herrera, for encouraging me to get this published on paper (and as of right now, that looks to be somewhat likely!)
To George Clayton Johnson, for countless insights
To Tony Albarella, for indirectly encouraging me to finish this project
To the folks at The Sci-Fi Channel who picked up TZ in 1995,
for giving me the idea to write it (see above)
To the few TZ cast who have been good enough to make comments
to me about their work on 'that great old TV show'
To Rod and the rest of the TZ writing core, dead and alive—without whom
and to Lynne Soto-Seelig, who taught me the importance of good writing, something I continue to strive toward
RATING RUBRIC

WE ARE NOT WORTHY TO WALK ON ITS SOIL = I
IT IS EXCELLENT = II
IT IS VERY GOOD = III
IT IS MILDLY GOOD = IV
IT IS BARELY PASSABLE = V
IT IS STILL BETTER THAN ALMOST ANYTHING ON TV TODAY = VI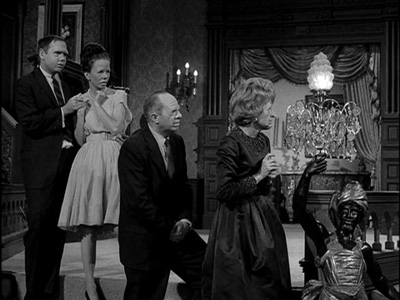 Mardi Gras incident, the dramatis personael being four people who let themselves go. This they did with a vengeance. They now wear the faces of all that was inside of them, said lives now to be spent in shadow. Tonight's tale of men, the macabre and masks—on The Twilight Zone.

---
c. 2002-2011 The Twilight Zone Museum. All Rights Reserved. Use of the material herein without written permission from the author is strictly prohibited. See website disclaimer for details.