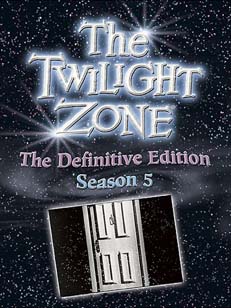 "Twilight Zone": The Definitive Edition
Released over 2004 and 2005
A Product of Image Entertainment, Inc.
On-camera interviews featuring a number of actors were produced by Charles Holloway and Andrew Ramage in November 2004. Included on the Season 4 and 5 discs are: Morgan Brittany, Anne Francis, Paul Comi, John Furia Jr., Carolyn Kearney, Bill Mumy, Terry Becker, Michael Forest, Nancy Malone, June Foray, Earl Hamner, Richard Matheson, and George Clayton Johnson are included. We also interviewed Suzanne Lloyd, H.M. Wynant, William Reynolds, Bill Erwin, Shelley Berman, Joseph Ruskin, Joanne Linville, Edson Stroll, Ron Masak, Dana Dillaway, Gloria Pall, director Ted Post, Susan Gordon, and Beverly Garland, whose interviews will be released later on.
Charles and I extend our gracious thanks to all who participated in the project (which may even continue at a later date). Thanks especially to Dennis Etchison, who served as our faithful interviewer and got a lot of wonderful material out of the actors and writers. Historically significant stuff, here! Another round of applause goes to Bill Mumy — in addition to doing audio commentaries for all three of the episodes he starred in, he was gracious enough to do an on-camera interview. We are so lucky to be living in the same time period as these great talents - viewers of the next generation and beyond will not have that luxury. Thanks also go out to Ana Barredo at Image Entertainment for acquiring the interviews for inclusion on the DVDs, and the people at TVSHOWSONDVD.COM for promoting them as much as they have.
Twilight Zone: The Definitive Edition DVDs are available for order at Amazon.com, DVDPlanet.com, DVDEmpire.com, or your DVD outlet of choice. If you're lucky, you can find each season for under $60 (retail $99.99, over 40% savings.)
Here is a review appearing on Amazon.com:
The Twilight Zone: The Definitive Edition — Season 1
Release: Image Entertainment, February 2005
Six DVDs - 5 of episodes; 1 of bonus features
Retail Price: $119, but priced as much as $50 less online.
THREE STARS out of five
The Twilight Zone has seen a number of releases within the past score of years; the oldest one being by CBS Video Library which was sold by Columbia House from the early 1990s, later revamped onto DVD. Image Entertainment picked up the torch in 1999 when they released the entire series on DVD, but like Columbia House before them, Image did not disc the episodes in chronological order of airdate. Gold Entertainment released the series appropriately in 2000, correcting this long-standing inconvenience. There was also the release of "Treasures from The Twilight Zone" by CBS in 1992, which included five episodes from the series plus Rod Serling's initial network pitch which sold the series, and an interview with Mike Wallace done in 1959, prior to the show's original airing.
2005 sees the re-release of the entire Twilight Zone canon by Image Entertainment; Twilight Zone is Image Entertainment's number-one selling DVD. Priced at a high $119.95 retail per set (which will eventually drop to around $75 at such online clearance stores as Amazon and Half.com), "The Definitive Editions" are clearly 'for connoisseurs only.' Rumor has it that CBS has re-mastered its old prints and will be re-releasing them through Columbia House yet again, via infomercial.

The earlier discs, which can still be ordered online from any number of outlets, have supplemental material written by Marc Scott Zicree, who has spent the better part of 30 years on Twilight Zone-related projects. Trivia quizzes, episode and season synopses, actor profiles, and other tidbits written by Zicree are included on the previous discs for more-than-casual fans, aided by clever and easy-to-navigate menus. The navigation of the present series of discs is not quite as effective; the same montages used on the Columbia House versions were utilized, and the viewer does not have the option to 'play all' the episodes on the disc at once (each episode has its own menu with chapters, and there is a sub-menu inconspicuously nestled in for each episode's special features, including commentary tracks.)

The picture quality of both Image's and Gold's earlier discs was good overall, but a number of digital bloopers occur in nearly every episode. Image has supposedly re-mastered the footage from the original prints for the most recent release but this is more or less imperceptible for most of the episodes.

Aside from a few nice added bonus features, Twilight Zone: The Definitive Edition looks to be yet another example of how Hollywood production companies jam-pack the product with goodies instead of focusing on quality and distinguishedness of the content and its presentation. The six-disc Volume 1 set comes with an unceremoniously tacked-on version of Zicree's somewhat controversial "Companion" guide to the series. Published in 1982, this is a book that every fan of the series likely already owns, and which over the years has garnered a reputation for slapdash treatment and commentary of the episodes. Zicree's magnetic-tape interviews with directors Douglas Heyes, Richard L. Bare, writer Richard Matheson, producer Buck Houghton and several others, are tacked on in the menu's Bonus Features section. If you can overlook the interviewer's approbing utterances of "mhmm" after nearly every sentence spoken by the interviewees, these are enjoyable.

The notoriously ineffectual Radio Dramas (produced by Falcon Picture Group)—radio adaptations of many episodes—are included, presumably the result of a business deal aimed to promote a failing product. One has the option of listening to Kim Fields ("Tootie" on the TV series The Facts of Life ) drive the ultra-classic episode "The After Hours" into the ground after (or before!) watching Anne Francis spin Rod Serling's words into gold. Isolated scores for several episodes are included, but the only way the viewer can listen to them is against the backdrop of a silent version of the episode—that's right, you can listen to the music as you watch the characters mouthing all the dialogue. Surely the scores could have been released on the disc as MP3 files that could be played on most DVD players. Audio commentaries by stars Rod Taylor, Earl Holliman, Martin Milner, Martin Landau, and Kevin McCarthy and also former CBS President William Self are included. Inasmuch as it would've been nice to see these guys on camera again after so many years, their comments about the old days are splendid, despite a general lack of remembrance about working on the series (Milner spends a good three or four minutes discussing his current activities as host of a radio show on deep-sea fishing.)
A sixth bonus DVD offers segments of the game show "The Liars Club," (a real hoot, featuring Betty White and Dick Gautier on the panel of liars!); a gallery of photos with about 10 commonly-seen production shots, a sales pitch of Serling's to a Netherlands network, and a blooper of Serling while filming the intro to the fourth season episode "He's Alive." A complete Twilight Zone comic book is also included, in PDF (Adobe Acrobat Reader) format, which can be viewed on computer.
Thankfully, Image included the Rod Serling bumpers for next week's episodes, something which fans of the series have sought after for many years, and also the middle and ending billboards of Kimberly Clark and Sanka, Twilight Zone's sponsors of the first season. Clips of Serling claiming his two Emmys are welcome inclusions, as are two lectures Rod did around 1970 at Sherwood Oaks Experimental College, a seminar-based college in the Los Angeles area which featured lectures by such industry giants as Serling. The audio tracks for these were superimposed over the video tracks of "Where Is Everybody," "Walking Distance," and "And When the Sky Was Opened" (we assume these three episodes were the subject of Serling's lectures.) The track for "Walking Distance," considered to be among the top five episodes of the series, is quite surprising as Serling denounces the storyline as flawed and illogical.
The same format and general content look to be the same for Seasons 2 through 5.
If you just want to watch The Twilight Zone on DVD, you would probably do well to save $250-300 and pick up a used copy of Gold Entertainment's complete version - minus the aforementioned bells and whistles — of the series on eBay.
—Robert Wilson